Rebecca Namabiro – Farming as a Business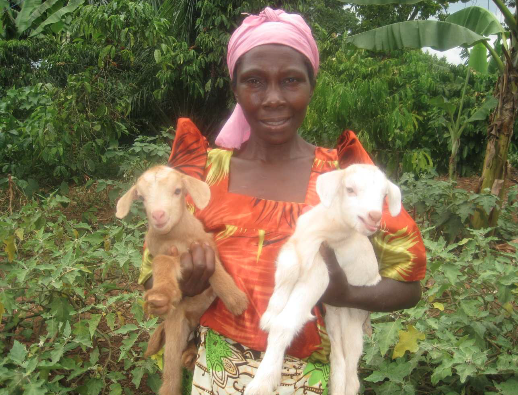 I am married and I have six children, all of them are schooling. I joined WCFJC in 2005. I participate in Agriculture. Ever since I joined WCFJC, it has been so helpful. Without it, I would not have managed on my own. WCFJC gave me a female goat that has produced two kids. I milk the goat every day and it gives me two liters a day.
WCFJC also gives me seeds every planting season to plant. This has really helped me to keep moving because I sell the crops and get money. This money has helped to pay school fees for my children. I have been a farmer all my life, though it was always very hard to get what to plant. Therefore, I would do farming on other people's garden to get what to feed my family on.
I have had challenges as a woman because my husband has been sick for three years. It has been me taking care of the family ranging from fees, food and even my husband's hospital bills.
WCFJC has helped me overcome the challenges. I have generated money from the sale of milk because I get at least Uganda shillings 58,000 (US$24) a month, and I am always assured of getting meals every day. I also get an extra income from the sale of what I plant. Life has changed because I am able to feed my family, pay fees and even second hand clothing. I used to move up and down looking for food and money. Now all this is history all because WCFJC has helped me in all ways. Thanks WCFJC.
Annet Sooka – Earning Her Own Money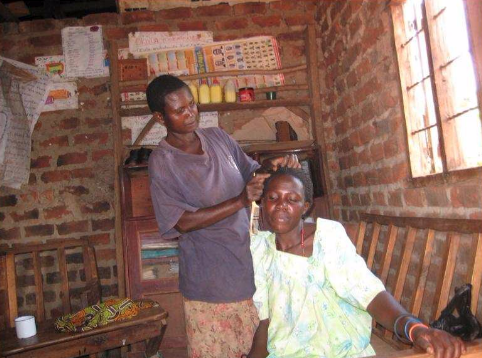 I am married, and my husband is a pastor, we have eight children. I joined WCFJC in 2011. Before I joined WCFJC, I was a farmer and I am still a farmer. I am a chairperson of a group. As a group, we have a salon. WCFJC first trained us how to work on people's hair. After they provided us with the saloon items which we use on our customers' hair. WCFJC also trained us on how to make liquid detergent. This is what I use at my home and I sell it to get an extra income.
I have greatly benefited from WCFJC because they have taught us how to do other businesses. besides hairdressing. They have always encouraged us as women to do other small income generating businesses. From their encouragements and support, I was able to start up a second hand clothes business and I buy and sell bananas.
I had challenges as a wife and a mother of eight. I used to depend on agriculture, which would not bring in enough income. School fees and other basic needs for my children were the biggest problems I had. I would take the harvested produce to their schools in form of fees; this would leave us with little food for the family.
WCFJC has assisted me because I can now afford the families basic needs especially school fees with the money I get from the saloon, selling of soap and other small businesses that I do. Life is better because I used to depend on my husband for everything but now I do not have to beg for anything because I always have money from my businesses .We always have enough food because I no longer use the food to pay school fees. I am feeling strong as a woman. Thank you to WCFJC.
---