Florence Kitabye – Makes more money
Florence Kitabye's business mills jackfruit and avocado seeds into a nutritious powder. Before joining WCFJC, Florence sold each packet of milled flour for UGX 1,000 (US$ 0.30) and earned UGX 5,000 (US$ 1.50) a week. With WCFJC training and support, Florence now sells her milled flour in plastic jars that boast a new label with a bar code and expiration date. Each plastic jar fetches UGX 10,000 (US$ 3). Weekly earnings are up from UGX 5,000 (US$1.50) to UGX 100,000 (US$ 30.63).
Agatha Odongo – Higher production levels
Agatha, who runs a paper bead jewelry business, acquired a paper cutter under Loan Phase VI. She testifies that the machine has simplified her work. She now uses less energy and time to cut the papers she uses for jewelry making. This translates into higher production levels. Her current challenge is finding a market for her products. WCFJC will introduce her to other jewelry makers who will help her identify buyers.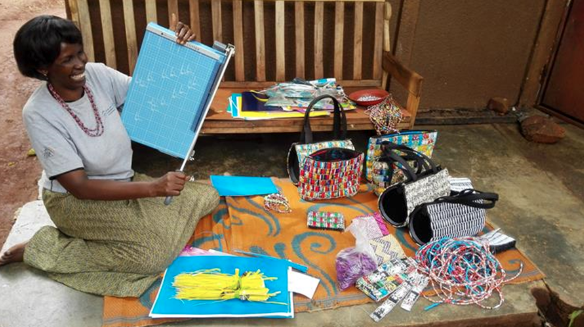 Rebecca Matege – Keeping Records
Rebecca operates a tailoring business. She did not know how to keep proper records before joining WiB. After the training held in February 2016 and with the help of WCFJC, she acquired a new record-keeping book and now keeps a neat book with clear entries. She won a record keeping award at the 1 st WiB quarterly workshop.
Peninah Mugalu – Wins Record-Keeping Award
Before joining the WiB Programme, Peninah paid no attention to proper financial record keeping. She made various entries in a number of different books. Peninah attended the training held in February 2016 and with the help of WCFJC, she acquired a new record book and started keeping proper records. She won the record keeping award as the best performing record keeper at the 2 nd quarterly workshop held on 31 st August 2016.
---